Pamper your loved one for Valentine !
Excite your taste buds, Enjoy the charm of live music,
Relax & have Breakfast in bed …

a perfect Valentine !
For Valentine's Day, Cazaudehore has thought of all lovers!
In the kitchen, Chef Gregory Balland has prepared – with much love, of course! – a superb 5 course gourmet menu with fresh seasonal products.
To accompany it, our sommelier Patrick Louette has selected the 1er Cru Blanc de Noirs Gonet-Medeville Champagne.
In the restaurant room, our Maître d'Hôtel Vincent Pedrot is preparing romantic tables by candlelight …
To enjoy this exceptional menu, we offer 2 different atmospheres, to be chosen upon reservation : "romantic intimate dinner" in the restaurant, or "musical dinner with my lover" in the Great Hall with the trio of Emilie Hedou, that we have already received several times as part of the Jazzaudehore evenings.
Valentine "in Jazz"
Passionate about American black music, marked by soul, jazz and blues, Emilie Hedou puts her powerful and expressive voice at the service of music very early on. Accompanied by his friend from high school, the excellent guitarist Nicolas Blampain, and the talented bassist Brahim Haiouani, their trio sounds like an obvious fact.
On stage, alchemy operates immediately: energy and complicity are packed with laughs !
With a lot of presence, this trio blends compositions tinged with blues and soul and reinterprets the great standards of their idols: Nina Simone, Etta James, Janis Joplin, Tom Waits, Chuck Berry …
Candlelit Dinner
with Champagne Gonet-Medeville
1er Cru Blanc de Noirs
Menu
Salmon
Scottish Label Rouge smoked in our kitchens, crispy veal
•
Saint-Jacques
panfried scallops, foie gras in ravioli,
Jerusalem artichokes and ginger consommé
•
Pigeon
roasted breasts, candied legs
•
Cheese
the heart of Auvergne
•
Chocolate
dark chocolate palet & almond Bavarian cream,
raspberry sorbet
Champagne !*
Gonet-Medeville 1er Cru Cuvée Blanc de Noirs
* One bottle (75cl) for 2 people
Alcohol abuse is dangerous for your health. Drink responsibly.
Useful Information
Menu proposed on Wednesday, February 14th
also on February 16th & 17th as part as a Valentine hotel package
-see below-
125 € per person
"Valentine in Jazz" evening
proposed only on Wednesday, February 14th
155 € per person
welcome from 19h30, concert (1st part) at 20h00
dinner served at 20h30, concert (part 2) for dessert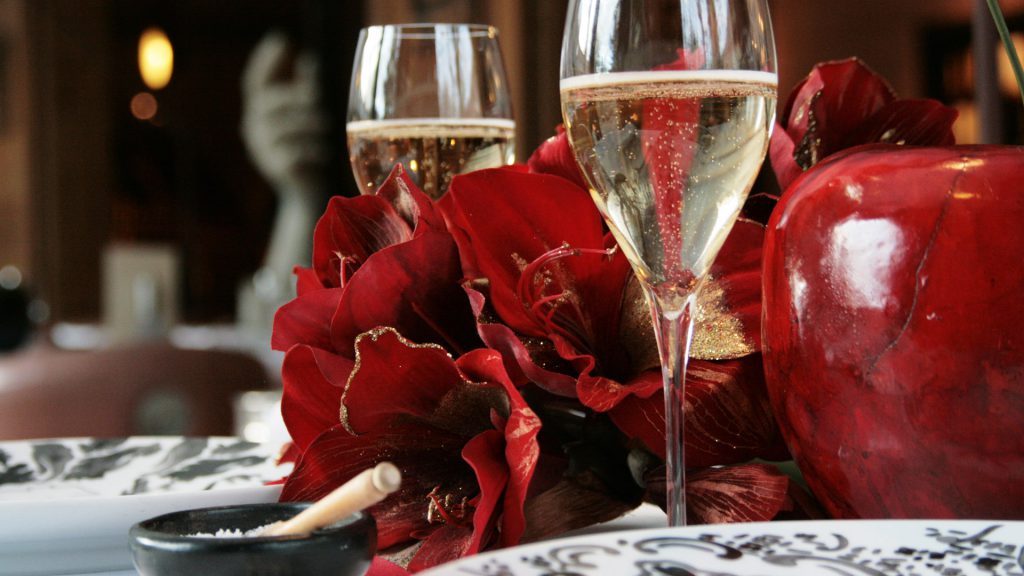 Take time …

Packages with Accomodation
"Valentine Package"
available on Feb. 14, 16 & 17
Valentine Menu,
Overnight in a double room,
Breakfast, buffet or in-room
as from 200€ per person
"Valentine Package" with Massage
available on Feb. 14, 16 & 17
"Valentine Package"
+ Massage with organic essential oils
(30 minutes per person)
as from 235€ per person