RESTAURANT SAINT-GERMAIN EN LAYE
RESTAURANT SAINT-GERMAIN EN LAYE
Since 1928, the Cazaudehore family, has passed on from father to son the secret of turning a simple "refreshments bar" into an eminent address in the west of Paris.
Chef Gregory Balland's cuisine strikes the right balance between tradition & invention which, associated with a Cellar of more than 600 references, will satisfy those who want to "eat like a bird" as well as "real gourmand".
The restaurant offers a friendly & cozy atmosphere, relaxed but cozy, where surrounding nature can express its presence, even in winter.
On sunny days, the restaurant opens onto a terrace surrounded by the forest, its smells, its noises … & its mysteries.
Appropriate dress is required, however wearing a tie and/or jacket is not mandatory. Sports outfits are not accepted.
ABOUT THE CHEF
GREGORY BALLAND, CHEF OF CAZAUDEHORE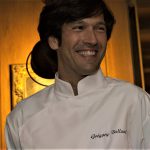 "My cuisine expresses my personality: spontaneous and intuitive, contemporary and yet firmly rooted in tradition. Preparing seasonal products is the obvious choice for me, although I do have a weakness for spring vegetables. But what I love most is to surprise our guests, inviting them to rediscover a product that has been prepared in an unexpected way – such as seared foie gras and minced duck – or to enjoy a combination of diametrically opposed tastes, such as smoked lamprey ravioli with foie gras."
JAZZAUDEHORE
Since more than 15 years that Philippe Cazaudehore, a fan of feeling, scat and swing, brings jazz out of the box by offering it a getaway in the forest of Saint Germain en Laye.
With a genuine passion for the Jazz from before the 50s, a special love for the gypsy swing and a true open-mindedness for the new Jazz, he makes us enjoy an eclectic selection, always chosen from the best bands, to share us and make us discover every type of Jazz.
The cycle of Jazzaudehore evenings annually hosts the great names of the Parisian jazz scene, from Claude Bolling to Thomas Dutronc, Dany Laferriere to Marc Doriz and Angelo Debard to the Charles Pasi.
Evenings where music prolongs the meal: past 10pm, the session begins and the musicians take the power. With them, at Cazaudehore, it is no longer the Chef who makes the "jam".
SUNDAY BRUNCH
Every Sunday from mid-October to March, the best brunch in the forest of Saint Germain en Laye to be shared with friends and family !
Oysters, Beef with Thai basil, Burgers with beetroot, Millefeuille of mushrooms and foie gras, Cheese platter and a multitude of desserts … stand alongside the pastries, scrambled eggs and other unconditional breakfast products on our large buffet.
Didier Leroux ensures a smooth musical entertainment, punctuated by his humor and his sense of timing, always ready to magnify your personal and family events by carefully chosing the right song at the right time. To complete the family atmosphere, Colelo "the funniest clown" will satisfy toddlers and almost grown-ups with makeup and balloon sculpting.
Add to all this the expertise of Cazaudehore and a fireplace to make it a place that will be very hard to leave when it's time to get on with his day!
.
sanitary specifications
Concerned about your health as well as your comfort, we scrupulously apply the protocol decided for our profession.
This specifies that you must come with your mask and that you must wear it when you are standing or walking.
You can of course take it off when you are at your table.
We also ask you to remember to respect the physical distancing of use during these same moments.
On our side, in addition to special attention to cleaning and disinfection, our staff always wear a mask & hydroalcoholic gel is available to everyone.